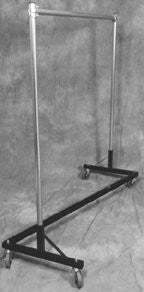 USA Z Garment Rack, 4' Base, 5' Uprights, 500 Lb Capacity
Regular price $171.95 $231.95 Sale
or 4 interest-free payments of
$57.99
Add Your Review
Z Rack with 4-Foot Base
Due To the Ongoing Steel Shortage, This Has a 2 Week Leadtime
If you're tight on space, our Z4B5U commercial-grade Z garment rack gives you the same load capacity of 500 pounds as our regular-size racks but with a slightly more compact 4-foot base. The Z4B5U has 5-foot uprights and is built to the same high standards with all-metal construction and heavy-duty casters with large, 4-inch wheels that make it easy to roll and stable even under heavy loads. The only difference is the compact base. Choose from four different colors for the base of the Z4B5U.
Like all our high-quality garment racks, the Z4B5U is made in the United States and comes with our "no overload guarantee." So when you need to take a step down in size, you don't have to compromise on quality.
Dimensions: 51 inches long, 66 inches tall, 23 inches wide. This rack is USA Made.

Product Reviews